CANDIDATE INFORMATION

Every election year, candidates want to know what the local party can do for them and will they be endorsed. First, if you are a resident of Iosco County and running for office, you must be a dues-paying, active member in the party to be endorsed. Simply paying your dues will not do it. We expect you to attend meetings, dinners, work at the Fair Booth or the Campaign Headquarters. You don't have to do everything, but you must do something.
What we do is to establish and run Campaign Headquarters in both Oscoda and the Tawas area. We open them for the month before the election and provide a place for candidates to put their signs and literature for the public to pick up. We take out slate ads in the Northeastern Shopper and the Iosco County News-Herald/Oscoda Press for the week before the election. We bag and distribute literature from the appropriate candidates in the appropriate area -- if you are running for office in Oscoda, we do not distribute your material in Tawas, we want you to get the most "bang for your buck." While we do not endorse candidates in primaries, we will copy and distribute your literature to all of the recipients of our newsletter for $5. We will place your literature in the Fair Booth if you want it there along with signs, bumper stickers, etc.
Every election, we save sign wires so we can help provide them to our local candidates. If a sign costs $5, approximately $3.50 is the cost of the wires. We can help you cut your costs.
We have people who volunteer to work in campaigns and help the candidates they support get their message out. While we do not contribute money to individual candidates, we believe that we can effectively help all of our candidates best by these activities.
And then, on election night we have a post election party in the Tawas headquarters (because it is closest to the County Building) where we hook up a TV, have food and refreshments and a good time celebrating our successes.
KEITH BUTLER SPEAKS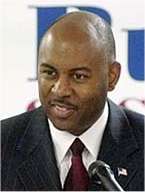 On May 14, 2005, Keith Butler addressed the Iosco-Arenac-Alcona Lincoln Day Dinner. He will be running for US Senator for Michigan in 2006. Mr. Butler, a member of the Michigan Republican Party since 1982, is the founding pastor of Word of Faith International Christian Center Church and the Senior Pastor of the 21,000 member congregation. He oversees the more than 200 ministry employees, manages an annual operating budget of over $30 million, and supervises the ministry's $40 million in buildings on the 110 acres headquarters property.
Mr. Butler graduated from the University of Michigan - Dearborn campus, earning a bachelor's degree. He has also completed his theological studies at Rhema Bible Training Center in Tulsa, Oklahoma.
He has been married 29 years to his lovely wife, Deborah L. Butler. Their three children now serve with them in the ministry. The Butlers live in the metropolitan Detroit area.
BONITA COYLE ANNOUNCES FOR REELECTION

Bonita M. Coyle has announced her candidacy for the office of Iosco County Register of Deeds on the Republican Ticket. Bonita began her 32 year career with the County in 1975 working as a clerk typist under the former Register, Leon Putnam. In 1984 she was successful in her bid for the office upon Leon Putnam's retirement.
Bonita is a Tawas Area High School graduate. Her husband Michael of 31 years is a self employed painter who owns Coyle's Painting and Wallpapering. Bonita has two married children, Scott who lives in Midland, Michigan and Janell who lives in Sherwood, Oregon.
In her career as Register she has seen many changes not only in the laws which govern her office but also the forms of technology available to do the record keeping of real estate records. Continually moving the office forward has been a priority of her career. Bonita is a member of Emanuel Lutheran Church, Quota International of Iosco County, Tawas Whittemore Hale United Fund, Iosco County Republican Committee and Sunrise Side Republican Women.
DeVOS IS DEFINITELY RUNNING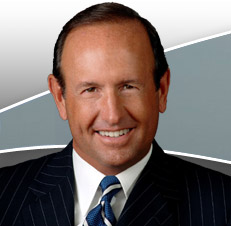 Chairman Bill Reilly, who attended the Mackinaw Conference in September, said that Dick DeVos makes a wonderful candidate for governor. At the present time, members of the executive committee have nomination petitions available for signature. If you wish to sign one, contact Maureen Rudel, 362-4747.
If you would like to learn more about Dick, call 1-517-679-0191 or check out his website, www.DeVosforGovernor.com. We are encouraging everyone who would like to elect a new governor in 2006 to send a check for $5.00 to Dick DeVos for Governor, PO Box 22216, Lansing, MI 48909. Please remember to include your employment information, (job, employer and employer's address) for reporting purposes.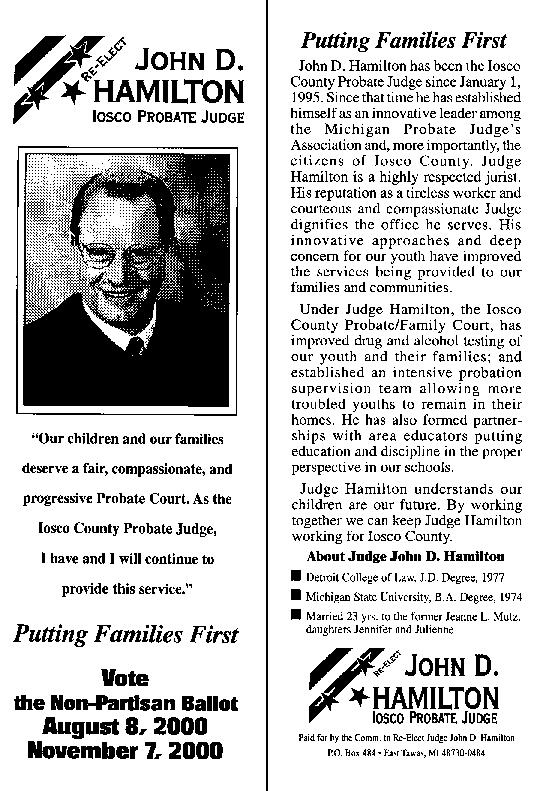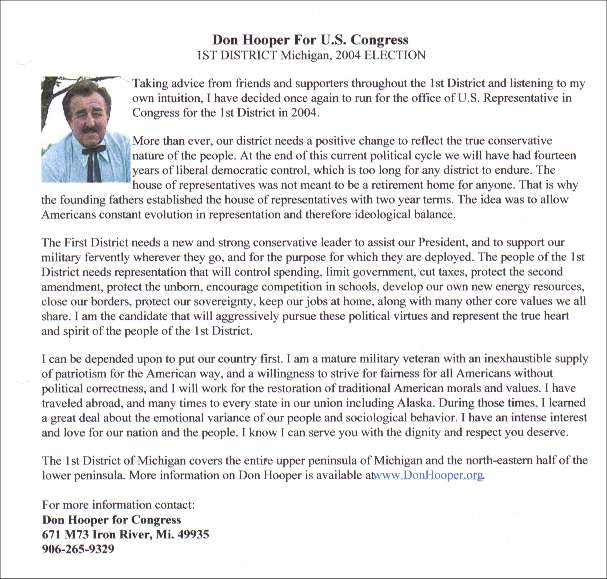 YOUR MICHIGAN TEAM
Justice Young was appointed to the Supreme Court in December, 1998, following his service on the Court of Appeals. He graduated in 1974 from Harvard College with honors, and from Harvard Law School in 1977. In 1978, he joined the law firm of Dickenson, Wright, Moon, Van Dusen & Freeman, becoming partner in 1982. From 1992, until his appointment to the Court of Appeals in 1995, Justice Young was the vice president, corporate secretary and general counsel of AAA Michigan. After his appointment to the Court of Appeals, he was elected to a full term in 1996.
Justice Young has had significant involvement in numerous civic and charitable activities during his career, such as being a member of the Advisory Board of the United Community Services of Metropolitan Detroit, a trustee of the Grosse Pointe Academy, a trustee of the Detroit Institute of Children, Vista Maria, the Governor's Task Force on Children's Justice Concerning Child Abuse and Neglect and the Greater Chamber of Commerce Leadership Detroit program.
Stephen Markman was recently appointed as the 103rd Justice of the Michigan Supreme Court. Prior to that, he served as Judge on the Michigan Court of Appeals, having been elected without opposition in 1996 and 1998 from his 60-county judicial district. Prior to being appointed to the Court, Justice Markman practiced law with the firm of Miller, Canfield, Paddock & Stone in Detroit. He served as United States Attorney, Assistant Attorney General of the United States, Chief Counsel of the United States Senate Subcommittee on the Constitution and as Deputy Chief Counsel of the United State Senate Judiciary Committee for seven years.
Upon his appointment to the Michigan Supreme Court, Justice Markman was described by the Detroit Free Press as bringing to the bench "a strong legal background and an excellent reputation for honesty and a willingness to judge cases on their facts."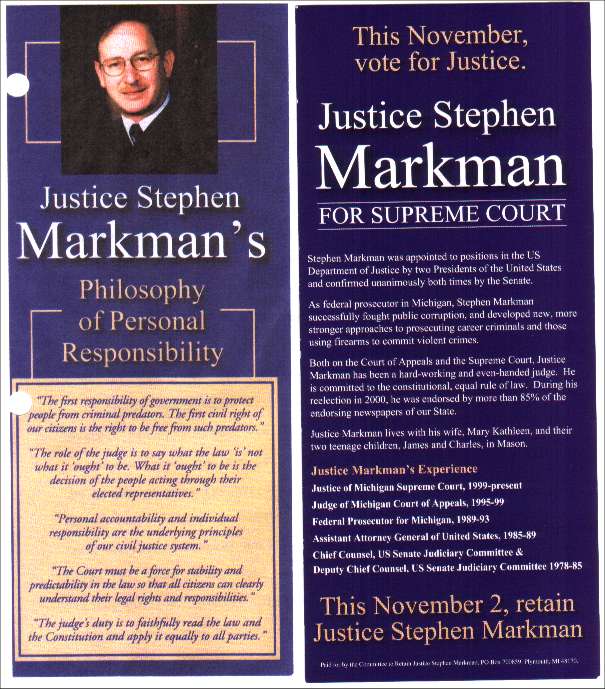 CANDIDATE ANNOUNCES FOR THE 103rd DISTRICT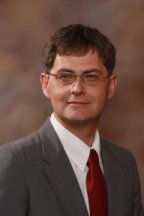 David A. Ryan Sr. is a lifetime resident of Alger in Ogemaw County. He is announcing his candidacy for the 103rd District seat for the State House of Representatives.
He is a graduate of Whittemore-Prescott High School and is currently employed with The Dow Chemical Co., Midland, MI.
Dave is a veteran of the United States Air Force, a member of the County Line Wesleyan Church, the American Holiness Campground, and the N.R.A., he is a steadfast defender of the 2nd Amendment. He is also a motorcycle enthusiast, hunter,
fisherman, and hobby farmer.
He is married to Katina L. Ryan (Curry) formerly of Tawas. They have four children - Courtney, Joshua, David Jr. and Sarah.
Dave is Pro life and believes that the Constitution and Bill of Rights is sacred and must be vigilantly protected. You can reach Dave at 989-873-4579, davideo1226@yahoo.com
Justice Taylor was appointed to the Supreme Court in 1997 after having served on the Court of Appeals for 5 1/2 years. He graduated from the University of Michigan in 1964 and received his law degree from George Washington University in 1967. Following service in the U.S. Navy, he returned to Michigan and served as an assistant prosecuting attorney. He later became a partner in a Lansing litigation firm where he remained for 20 years prior to serving on the Court of Appeals.
In 1998, when Justice Taylor stood for election to the Court, he was endorsed by 15 out of 16 of the state's endorsing newspapers, the most of any Justice in recent memory. The Detroit News, in endorsing him, described him as "thoughtful" and "highly regarded by his colleagues."
MIKE WELSCH ANNOUNCES

Mike Welsch has announced his candidacy for a fifth term as the Iosco County Clerk on the Republican side of the ballot.
No newcomer to public service, Welsch worked in both 81st District Court and the Iosco County Sheriff Department prior to being elected in 1988.
It was from 1973-1985 that Welsch worked in law enforcement. During that tenure he served as an undercover narcotics officer for a time and spent the last five years as the county undersheriff. Welsch left the Sheriff's Department in 1985 after being named 81st District Court administrator and probation officer, an office he held until his election.
During his nearly 16 years as an elected official, Clerk Welsch established a countywide voter punch card system which has dramatically reduced time and improved accuracy in county and township elections.
In addition, he is now looking into the optical scan voting system for Iosco County.
Welsch was also responsible for computerizing the clerk's total office function and creating a new simplified filing system.
During the past fourteen years, Welsch has acted in concert with the Iosco County treasurer as co-administrator of the county. The work was previously handled by a county administrator, a position abolished by the board of commissioners in late 1990.
Welsch, a 37 year county resident, came to Iosco as a member of the U.S. Air Force, serving at the former Wurtsmith Air Force Base from 1967-1970. He remained in the county following his honorable discharge.
The 58 year old Republican and his wife, the former Debra L. Roach, reside in Tawas City. They have two sons, Andy, 21 a senior at MSA and the late Peter.
Mike says that the newly created Circuit Court has changed many aspects of the Clerk's office. With the addition of two more counties to the 23rd Circuit Court and the addition of anther Circuit Court Judge, his office is spending more time in the court room.
Past president of the Michigan Association of County Clerks, Welsch was selected by his peers as "County Clerk of Year 2001". Mike is a member of the United County Officers Association and serves as 1st Vice President. He is Secretary of the Board of Directors for Michigan Municipal Risk Management Authority.
Welsch is a past Distinguished President of the Tawas Kiwanis. He was also secretary of the Men's Major Bowling League for 15 years. He serves the Tawas Area Soccer League as referee and was awarded the Grade 2 Referee Assessor by the American Youth Soccer Association (AYSO). Welsch also served as coach for soccer and in the Tawas Knot Hole League. He belongs to the Iosco County Historical Society.
A member of Emanuel Lutheran Church, Welsch served on the Board of Trustees and has served six years as church treasurer.
A longtime member of the Iosco County Republican Party, Welsch is a past vice chairman and currently serves on its executive committee.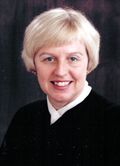 JUSTICE WEAVER SPEAKS
On August 8, 2002, Michigan Supreme Court Justice Elizabeth Weaver visited Iosco County. She started at the Issues and Eggs program sponsored by the Tawas Area Chamber of Commerce. From there, she met a group of residents at Bay Towers in East Tawas. She then toured the East Tawas City Hall, the Iosco County Building and from there went to Oscoda to speak to the Sunrise Side Republican Women's Club.
Justice Weaver, like Justice Robert Young, is running for re-election this year. She is a resident of Glen Arbor, Michigan and has been a judge for 28 years. She started as a Probate/Juvenile Judge in Leelanau County, followed as a Court of Appeals Judge and has spent the last eight years as a Supreme Court Justice.
She is a part of what the Wall Street Journal has described as the "best" of the state Supreme Courts in the country.
Like the other conservatives on the Court, she believes in interpreting the law, not writing it. She believes in deciding only the question which is before the Court and not reaching out to expand an opinion to a question which was not presented.
Her slogan is "Remember in November, Weaver, We Need Her." She stresses the importance of voting the non-partisan ballot first, so you don't forget.
On the non-partisan ballot will also be listed Justice Robert Young, who, like Weaver, will be identified as "incumbent."
Bill Schuette, who was the top vote-getter in the Court of Appeals race will also be listed.
Last, we have two fine candidates for the 23rd Circuit Court, Jim Bacarella and William Myles.
These judicial positions are very important. Justice Weaver may just be right. Vote the non-partisan ballot first.
Dick Posthumus, 49, is from Alto, a crossroads village about 20 miles east of Grand Rapids. He married Pamela Bartz in 1972 and they have four children. A lifelong farmer, he received his BS in agricultural economics and public affairs management from Michigan State University in 1972.
He was the executive vice president of the Michigan Beef Industry Commission from 1974-79, was on the Republican legislative staff from 1979-82 and was elected to the Michigan Senate in 1982. After serving as the Senate majority leader, he was elected in 1998 as lieutenant governor serving with Governor John Engler.
He spoke to a joint Lincoln Day Dinner for the Iosco, Arenac and Alcona County Republicans in the Harbor Room of the Tawas Bay Holiday Inn on May 20, 1999. The dinner was a great success for all who attended.
The following morning, May 21, 1999, the Lt. Governor addressed attendees at Issues and Eggs, sponsored by the Tawas Area Chamber of Commerce.
The 2001 Lincoln Day Dinner was a great success. We had a large turnout with good representation from Alcona and Arenac as well as Iosco. Wiltse's outdid itself in preparing a wonderful dinner, and the Dinner Committee would like to extend our thanks to all those persons and businesses whose contributions helped make the dinner a success.
The Lt. Governor gave us a view of his vision for the future of Michigan, identifying his priorities as education, the economy and the environment. He answered questions from several of the guests. The following morning he met with interested citizens at the Chamber of Commerce Issues and Eggs Breakfast and answered more questions.
Those who attended the events were very impressed with the Lt. Governor.
Dick Posthumus & Mary P. Smith Diane Manderochio & Dick Posthumus Jilianne Benchley
Billie Wright & Dick Posthumus Dick Posthumus & Bill Reilly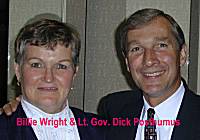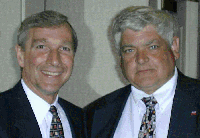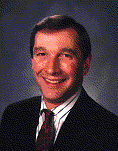 POSTHUMUS CAME TO TOWN
After spending the night of June 9, 2002, in the Tawas area, Lieutenant Gov. Dick Posthumus started out early Monday morning to meet and greet local residents. He went to several restaurants and had an opportunity to speak to a number of patrons about their concerns. He met the mayors of Tawas City and East Tawas, toured the Iosco County Building and new East Tawas City Hall and Community Center.
He then traveled on to Oscoda, met Oscoda Township residents while touring the Oscoda Township facility and then stopped by several restaurants where he greeted patrons.
"I'm here to meet people and listen to their concerns," said the Lt. Governor. "I've been in this area many times and really enjoy it here."
The Lieutenant Governor is running for Governor this year. The Republican candidate will be chosen in the August primary.
Return to Index
Chief Judge of the Court of Appeals, Maura Corrigan, made a whirlwind tour of Iosco County on July 9th and 10th, 1998 meeting residents at an Ice Cream Social at Bay Towers, the joint meeting of the Republican Women's Club and the Iosco County Republicans at Wiltse's in Oscoda, and at the Chamber of Commerce Eggs and Issues Breakfast at the Holiday Inn in East Tawas.
She expressed her pleasure at meeting all of you who were able to attend any of the functions and her delight with the Sunrise Side in general.
SUPREME COURT JUSTICE MAURA CORRIGAN SPEAKS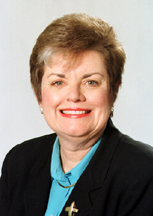 On Monday, August 21, 2006, Michigan Supreme Court Justice Maura Corrigan visited Iosco County. She met with residents of the Bay Park Towers in East Tawas and with the Sunrise Side Republican Women's Club at their monthly meeting for lunch at Tait's Bill of Fare in Oscoda. Justice Corrigan is running for a second term on the Michigan Supreme Court, which has been called the best state Supreme Court in the nation by the Wall Street Journal.
She spoke about a number of subjects in her appearance, including: 1) adoption and foster care, areas where she has been particularly active, and, 2) her trip to Argentina as part of a US State Department effort to have US Judges meet with and talk about American Justice. She noted that in Argentina, judges are often impeached if the electorate doesn't like a decision. There are so many impeachments that the judges simply continue their business while the impeachments are on-going. She noted that the main attributes that set the United States apart from other countries in the world are the protection of private property rights and the rule of law.
She also spoke about drug courts, a learning center for children in the Hall of Justice center, outsourcing of jobs to other countries, mental health patients and prisons.
She discussed the ballot proposal on eminent domain (condemnation of property by governmental entities) and noted that while the Michigan Supreme Court has protected the citizens of our state from condemnation for other private purposes, that decision reversed a previous decision that allowed such condemnations. Placing the protection in the State Constitution protects the matter from a change in the Court.
A nice turnout occurred at both locations. Retired Judges William McCready and J. Richard Ernst were joined at lunch by their wives Rachel and Janet. Both of the Judges have had previous dealings with Justice Corrigan. Judge Ernst was assigned to sit on the Court of Appeals when Justice Corrigan was the Chief Judge of the Court of Appeals.
LINCOLN DAY DINNER
Our Lincoln Day Dinner was held on February 13, 2003, with Sen. Tony Stamas as our featured speaker.
We had a nice turnout with attendees from Alcona, Arenac and Iosco County Republican Committees.
Tony spoke to us about his experience on election night, in a little building behind the family restaurant where he and all of his supporters gathered to wait out the results. It was about 2:00 a.m. when he finally knew he won. It was a close race, with Tony winning by only about 2000 votes. He thanked all of us for our support and votes and is now concentrating on his service.
Tony is the Vice-Chair of the Senate Appropriations Committee, where he chairs the Subcommittee on the Department of Community Health, and vice chairs the Transportation, State Police/Military Affairs, and Community Colleges Subcommittees. He is a member of the Standing Committees on Banking and Financial Institutions and Senior Citizens and Veterans Affairs.
He can be reached by mail at PO Box 30036, Lansing MI 48909. His phone is (517) 373-7946, toll-free (866) 305-2136, fax (517) 373-2678 and e-mail OfcTStamas@senate.michigan.gov.
Thanks to John Moehring of Moehring's Greenhouse for the table centerpieces and Tom and Sue Ferguson for the programs.
Thanks also to those who sponsored our doorprizes: Ace Hardware, Oscoda, Americinn of Oscoda, Carter's Food Center of AuGres, Classic Imports of East Tawas, Classic North of East Tawas, Dean Arbour Ford Mercury of Tawas City, Dean Arbour Chevrolet Cadillac of East Tawas, Dunleavy's Eatery & Pub of AuGres, H & H Bakery & Restaurant of AuGres, Huron Car Care, Inc. of East Tawas, Iva's Chicken Dinners of Sterling, Lakeside Service of East Tawas, Lakewood Shores Resort of Oscoda, The Old Place Inn of Harrisville, Print 'n' Go of East Tawas, Rose Stawowy of Sterling, St. Joseph Health System, Tawas City, Tait's Bill of Fare, Oscoda, Tawas Bay Holiday Inn Resort, East Tawas, Village Chocolatier, East Tawas, Wheeler's Restaurant, Standish, and Wiltse's Brew Pub & Family Restaurant of Oscoda. Please remember to patronize these sponsors when you are shopping.
We also recognized our Century Club members: James & Joan Abney, Allen & Dorothy Alexander, James & Michelle Bacarella, Terry & Joyce Bellville, Don & Linda Birgel, Lee Bracken, Howard & Mary Jane Burdett, Pat & Carol Copland, Tom & Julie Dawson, Terry & Kathie Ekdahl, Tom & Sue Ferguson, Richard & Elizabeth Hayman, Lawrence & Wendy LaVoie, John Moehring, Dave & Dawn Nelsey, Sen. Walter & Sally North, Gary Rapp, William & Mary Reilly, Maureen Rudel, Patrick & Jane Ruster, Jeffrey & Susan Samotis, Berk Smith, Clyde & Faith Soucie, Sen. Tony & Sara Stamas, Archie & Rosalee Stevens, David & Stephanie Wentworth, and Dean & Debbie Wiltse. We were also joined by Wayne and Carol Hartman, Century Club members from Arenac. The new Century Club members, in italics, were given their pins.
We also had 5 students attend who were sponsored by Pat & Jane Ruster, Berk Smith and Supreme Court Justice Elizabeth Weaver.
A good time was had by all who attended.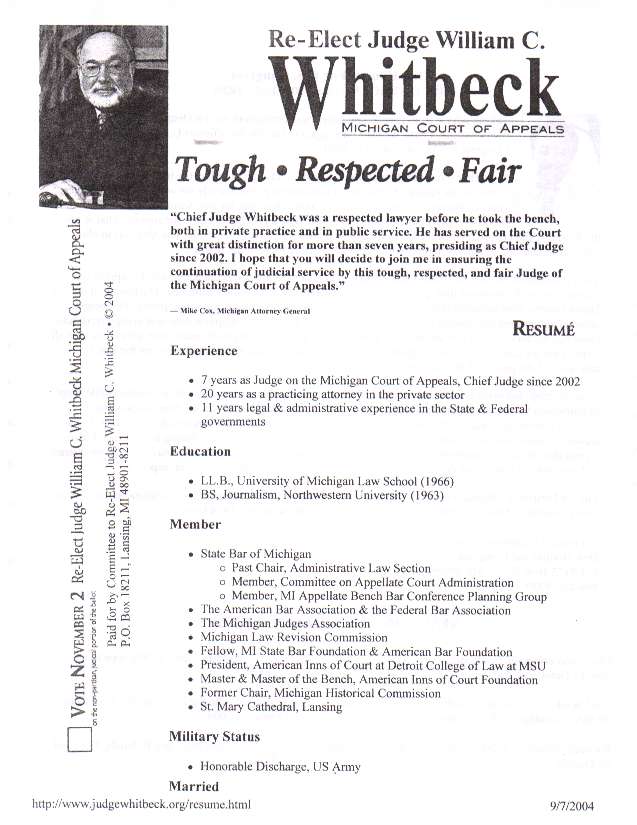 STEVE YANTISS ANNOUNCES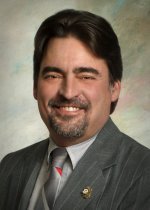 Steve Yantiss (R-East Tawas), announced formally on May 1, 2008, that he will run in the 2008 election for State Representative. "It's time to return to a truly representative state legislature," said Yantiss. "Last October, the party in power in Lansing, including the 103rd District's representative Joel Sheltrown, voted in the largest tax increase in Michigan's history at a time when businesses and individuals are struggling. I don't know of one single person in the District that supports the massive tax increase the current legislature pushed through. The people of the 103rd District and the rest of the State deserve far better than that."
"My career has trained me to look for inefficiencies and waste, and I plan to take the same approach to my responsibilities in Lansing," said Yantiss, who is an automotive engineering consultant. "Lansing needs to be fixed, and the massive tax-and-spending spree supported by Joel Sheltrown needs to end. People are being taxed out of Michigan. As the economy slides and tax rates go up, people are leaving the state at an alarming rate. We need to reverse those trends—that means electing representatives who will fight for reform and wiser use of taxpayers' dollars.
Yantiss's connection to the 103rd district has been lifelong, beginning with fishing trips on Lake Huron and the Au Sable river system since he was a boy. He has owned property in Baldwin Township since 1999, a home since 2004, and he currently resides there.
He has been in the automotive design and engineering business since 1979 in leadership roles taking projects from design to completion on time and under budget, which has involved interfacing with all levels of the manufacturing community, from top management to the assembly floor.
Yantiss is a member of the Michigan Sheriffs' Association, the National Rifle Association, the Fraternal Order of Eagles, Harley Owners Group and Michigan Public Television. He is married with two children and is an avid hunter and fisherman.
For more information on Steve Yantiss's campaign please visit www.believeinsteve.org.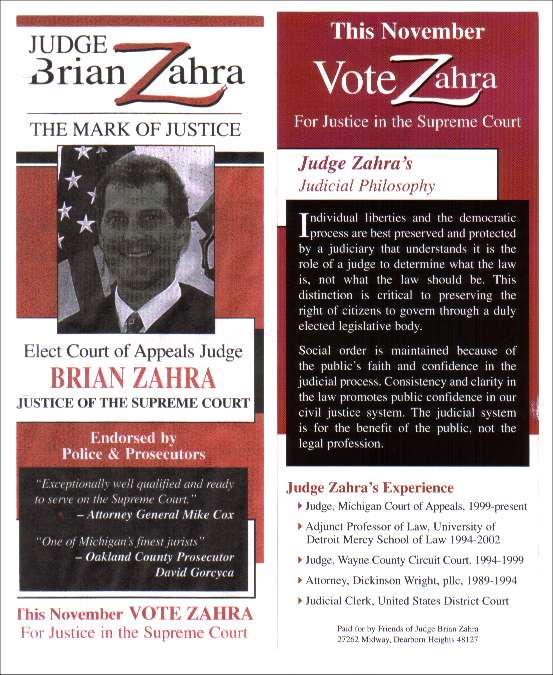 Revised: